I couldn't resist posting this comic: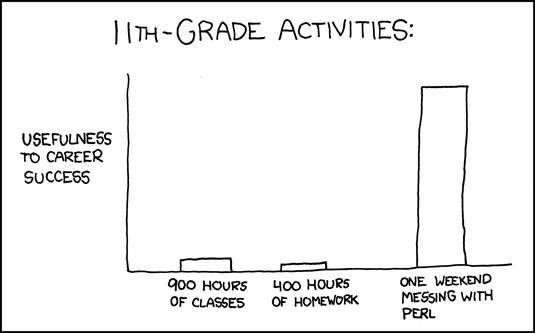 What side projects are you currently working on? More likely than not, one of them will turn out to be more successful than you ever imagined.
You can find more funny / geeky webcomics at XKCD.
Did you know both of my books are available as audiobooks? Think of them as very inexpensive course versions of the book. They're perennial bestsellers on Audible.com, and The Personal MBA was recently honored at the Audie Awards, the "Grammys" of the audiobook industry.
Even better: you can get one of my audiobooks for free if you don't yet subscribe to Audible. Click here for details.
The #1 International Bestseller, Revised & Expanded. A world-class business education in a single volume. Learn the universal principles behind every successful business, then go out into the world and make your own. More...
A practitioner's guide to rapid skill acquisition. Accelerate your learning by deconstructing complex skills, practicing the most important elements first, and removing barriers to deliberate practice. What do you want to learn? More...