I couldn't resist posting this comic: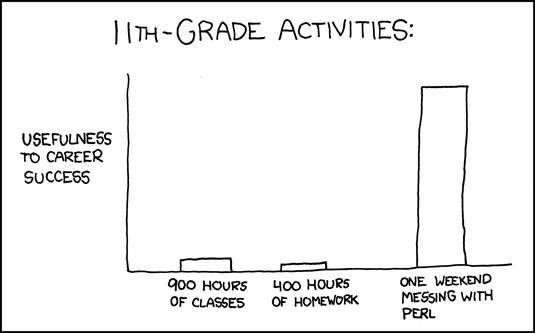 What side projects are you currently working on? More likely than not, one of them will turn out to be more successful than you ever imagined.
You can find more funny / geeky webcomics at XKCD.
Like this? Subscribe to Josh Kaufman's email newsletter. You'll receive updates on Josh's latest research and thinking, book excerpts, and free resources that will help you make more money, get more done, and have more fun. Sign up now!
I'll never spam you. Feel free to unsubscribe at any time.
The #1 International Bestseller, Revised & Expanded. A world-class business education in a single volume. Learn the universal principles behind every successful business, then go out into the world and make your own. More...
A practitioner's guide to rapid skill acquisition. Accelerate your learning by deconstructing complex skills, practicing the most important elements first, and removing barriers to deliberate practice. What do you want to learn? More...